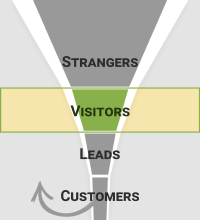 Are you looking to generate more leads for your business? Case Study videos are best used in the second stage of your marketing funnel, and will help you convert your website visitors into leads.
Go from being "just another company that says they can solve my problem" in your prospect's mind to a verified, credible expert they should listen to.
Case studies are a beautiful blend of "How-To" info and the all-powerful customer testimonial. Stay focused on the result that was achieved, and people will opt in to find out how they can create the same result.
"We helped someone exactly like you. Here's how we did it."
---
Examples
DeVry Case Study
Price for a similar video:
$1751
Bulk Pricing:
2-5 videos: $1296 each
6+ videos: $989 each
This video is beautifully put together, and clearly communicates how the business (Retrofit) significantly improves the lives of the customer's (DeVry) employees and makes the business more profitable.
---
Example: Honda Motors Case Study
Price for a similar video:
$1140
Bulk Pricing:
2-5 videos: $669 each
6+ videos: $517 each
Here, the customer concisely shares his experience of doing business with the service provider (NTT Communications), and expresses how his company (Honda Motors) functions so much better as a result.
Note: I wouldn't advise devoting the first 13 seconds of a video to a logo intro.
---
Example: Customer-Created Case Study Price for a similar video:
$0
Totally DIY!
Problems playing the video? Click here.
I've included this example to show you what it might look like if one of your customers created their own video to share their experience of using your product or service.
Note: The DIY nature of this video certainly helps it feel more authentic, though the lack of company branding on it makes it a little unclear that it's a case study.
If your customers send in their own videos, I'd be happy to clean up the audio (making their voice "jump" out of the speakers more) and brighten the video (making it look as professional as possible) for $149.
Bulk Pricing (Audio/Video Cleanup Only)
2-5 videos: $117 each
6+ videos: $95 each.
---
Note: prices listed above are estimates, based on video length and general production level. Your actual price may vary depending on your individual needs.
Get More Leads
Contact me now to start growing your business!
Email: info@jodyhatton.com
Phone: Book a convenient time slot