Short version:
This is the slowest, crappiest external hard drive I've ever had. Overall data transfer speed is OK, if you're only using it to move large files. However, when it comes to backing up lots of small files (like a website, for example), the process of moving, copying and deleting files is unbelievably slow.
Last summer, I tried taking it apart and putting the hard drive directly into my system to see if I could get it to perform better. It seemed, though I had taken the time to completely format the drive after I bought it, that it was not in fact a typical NTFS drive, and couldn't be used in any way other than being plugged into the enclosure's circuit board. Unfortunately, I needed the data on the drive at the time, so I didn't try deleting/re-creating the volume.
I'm thinking there must be some kind of proprietary file system going on, which would explain the slow performance.
Verdict: Not recommended!
---
The Full Story:
I bought this hard drive today at the German retailer "Saturn," on sale for 99 Euros — not a bad price for a 3 TB, USB 3 external hard drive with a 2-year warranty.
Being unfamiliar with most European brands, I decided to Google "intenso hard drive review" and basically found a bunch of forum threads with people asking, "who the heck are Intenso?"
Well, if it makes any difference, it appears they're the guys who made the pretty case that holds the hard drive — not the hard drive itself. In this case, Hard Disk Sentinel reports the drive is a Toshiba DT01ACA300 — so, if you're all worried about putting your data on a hard drive that has no reputation, you can now rest easy.
Anyway, I decided to be an ultra-paranoid nerd and format the drive to verify the integrity of each and every sector before moving my precious data onto it.
And then, a mere 20 hours later…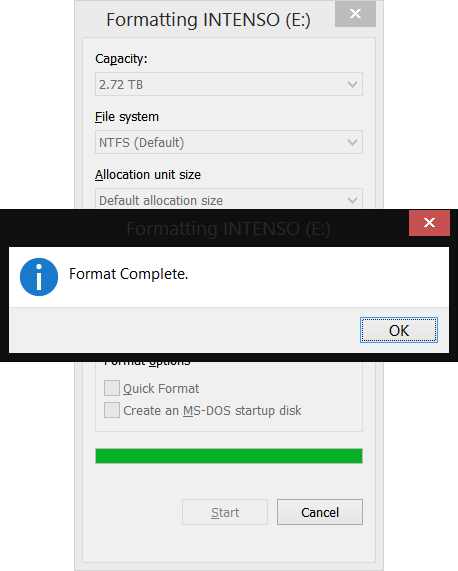 HOORAY!
From there, I went for one of the biggest folders on my hard drive: a collection of raw files from my camcorder.
I watched the status bar move along during much of the transfer: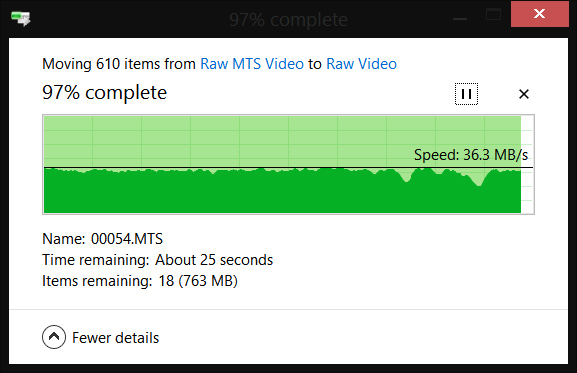 The highest speed I saw was 41.2 MB/s, though most of the time it averaged around 36.3 MB/s as pictured above.
Copying files back to my laptop's hard drive was about the same, maxing out at 39.1 MB/s and averaging around 38.8 MB/s: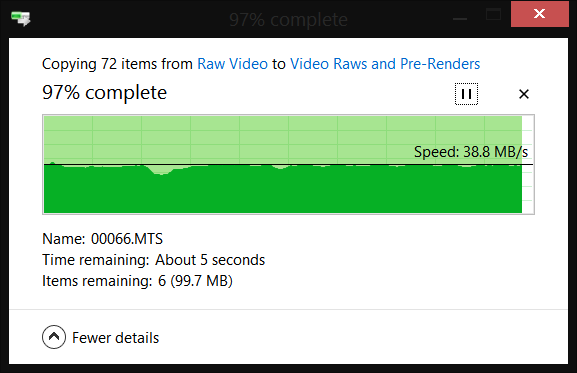 There was another time where I moved a few files at the freakishly-fast speed of 179.3 MB/s, but that was a one-time occurrence I haven't been able to replicate.
Overall, the drive runs a lot hotter than I'd prefer; with no fan in the case, things heat up pretty quickly. It appears the temperature got a little crazy at some point during the process of formatting (54 degrees Celsius):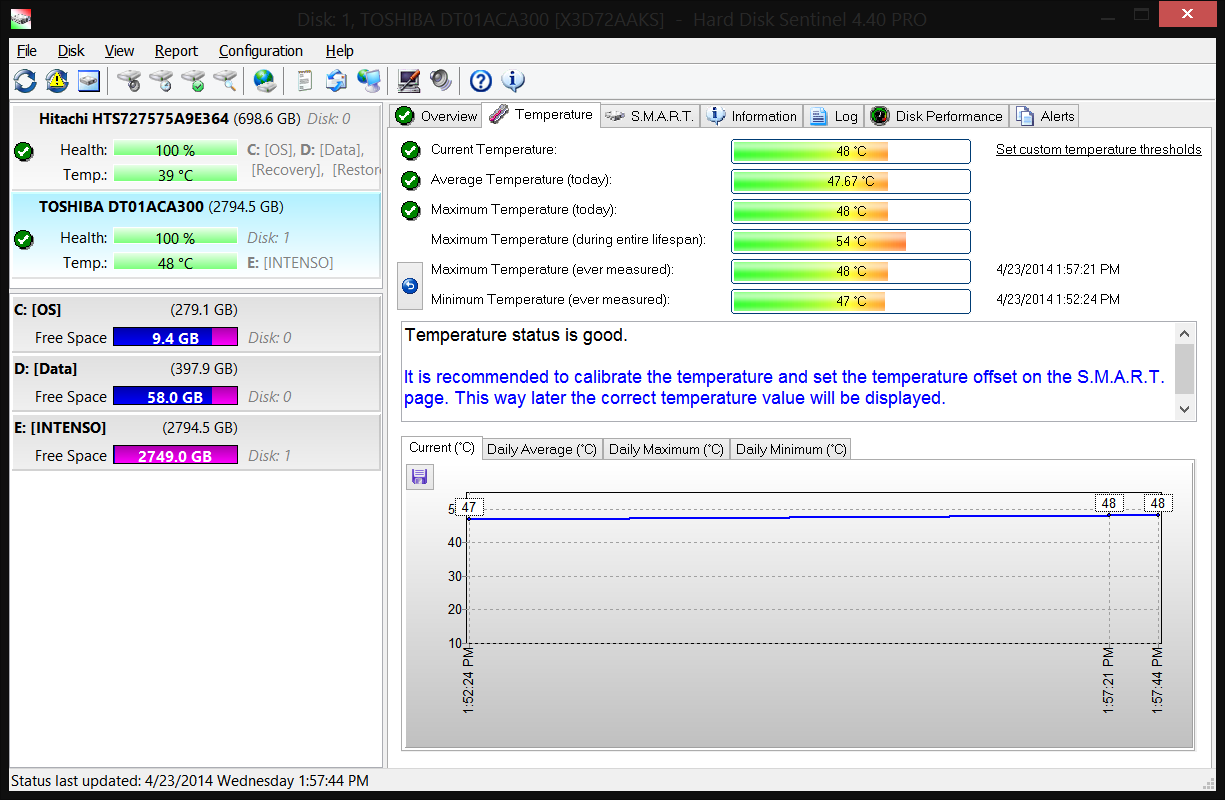 After taking it apart last summer (the reason is below), I decided to leave the case open (discarding the top and bottom of the enclosure) to help keep the temperature a bit more reasonable. I've kept it open ever since and the drive keeps cool now.
Once I started trying to use it as a backup drive (for numerous small files, not just big video files), I was shocked at how terribly it performed: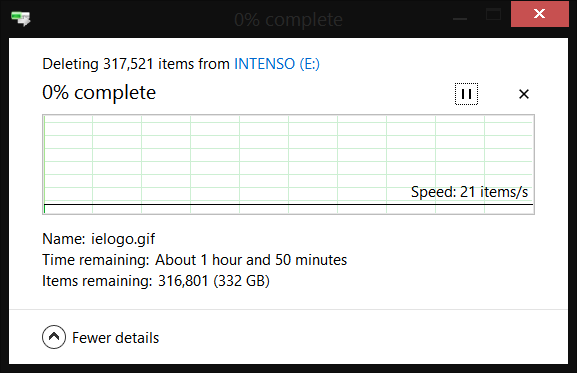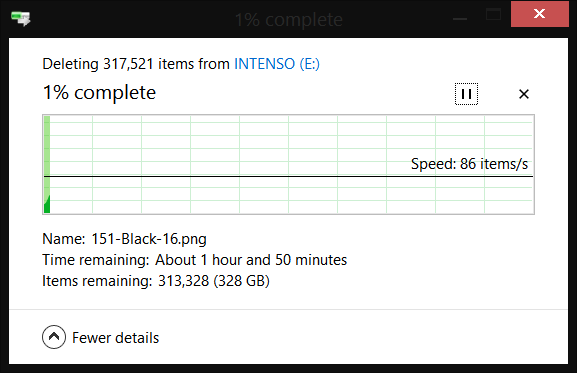 For reference, my other drives usually delete around 1,000 files per second.
Naturally, I wasn't very excited about that kind of performance, so I thought "ah screw it, I'll just take the drive out of the enclosure and put it directly inside my computer."
Windows wasn't able to see any kind of partition. I had the option to format it, but that wasn't exactly what I wanted.
So, I put the drive back into the enclosure and just let it delete all those files overnight (with the lid off to prevent overheating), while the bright blue power indicator LED lit up my bedroom and kept me awake all night. 😉
It's my theory that the Intenso enclosure has its own proprietary file system, and the reason it performs so slowly is that (something) has to convert all the data from (whatever) file system to NTFS. It might perform better on a Mac … but I definitely ain't a Mac guy. Nowadays I only plug it in once every few months, after having moved all my precious data to SpiderOak instead.
That concludes my uber-scientific review of the Intenso 3TB 3.5″ external hard drive! Feel free to use this newfound knowledge to rule the world!