The Short Version:
Is Windows sucking up CPU power on your machine for no apparent reason whatsoever?
Here's how I stop it on my computer.
Open up Task Manager (CTRL+SHIFT+ESC).
Click "CPU" to sort processes by CPU usage.
Select the one that says "Service Host" — usually "Service Host: Local System (Network Restricted) (Number)". The processes will move up and down, making this a bit tricky, but you can do it!
Right-click it and select "End task".
A dialog box will pop up, warning you that the world will end, but check the little disclaimer box and click "Shut down".
99% of the time, the only thing that happens is CPU usage goes back to normal.
There was that one time where I had a blue screen a minute later … but it's only happened once.
In my opinion, it's an acceptable risk, as the only other solution I've found so far is rebooting anyway!
---
The Full Story:
A few months ago, I decided to take the risk and upgrade to Windows 8.1.
(See, I usually like to wait a least a year before doing things like that, to give the company time to work out the bugs… well, I suppose I was feeling a little adventurous.)
Shortly after doing the upgrade, I noticed the CPU would occasionally start running at 10% to 20%, like so: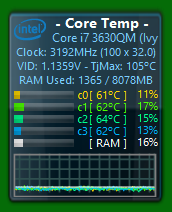 There was no reason. It appeared to be doing nothing whatsoever. It wasn't a result of me opening a program, closing a program, or anything. Just one moment it wasn't wasting resources, and one moment it was.
I opened Resource Monitor. I opened Task Manager. I opened Process Explorer. None of them could tell me anything, except that Service Host was the culprit.
I Googled. I read forums. I read articles. None of them could tell me anything useful.
I opened up the Services window, and once I even went to kill every single service that Windows would permit me to.
It took forever, and when I was done… well, the computer was still sitting there wasting resources.
So, whenever it happened, I would just reboot. Save all my work, close all my programs, and reboot.
Pain in the ass.
Sometimes, when I told it to reboot, the computer would just sit there with a blank screen saying "Restarting" while the little spinny animation went on forever and ever. Sometimes I'd have to unplug the thing and remove the battery just to get it to reboot!
It was maddening.
And THEN! The other day, I had a bright idea.
I opened up Task Manager (CTRL+SHIFT+ESC), and sorted processes by CPU usage.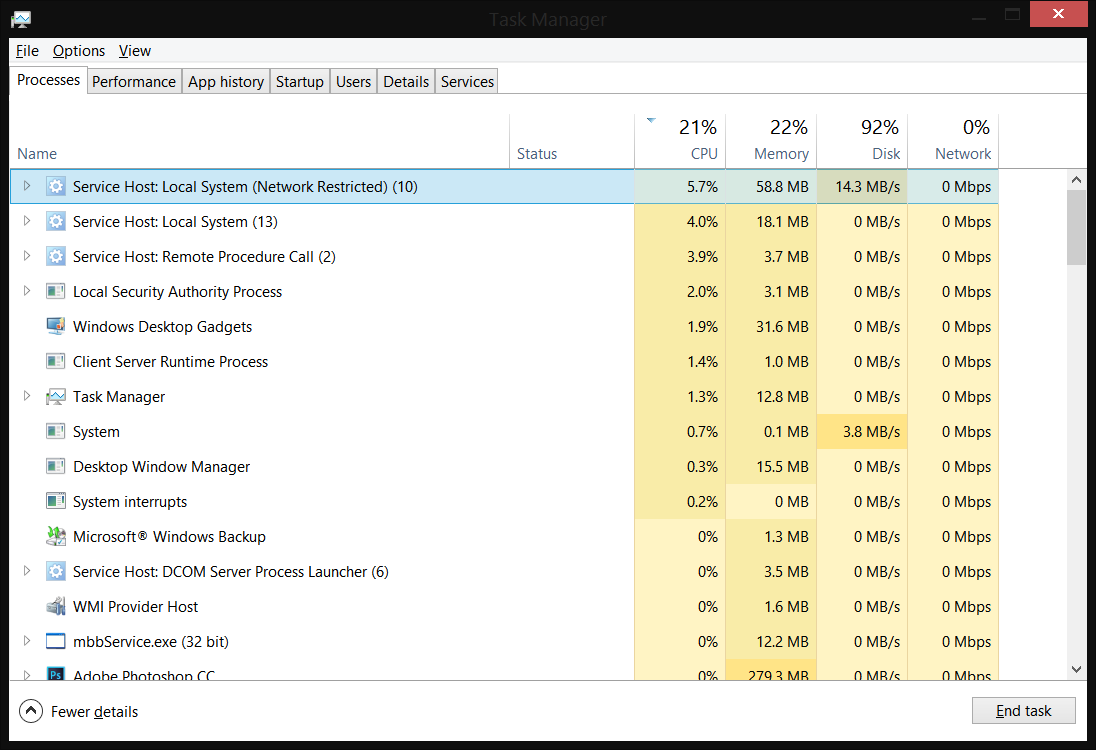 Crap. It's Service Host. Well, there's nothing I can do about that, right? Service Host, as we all know, is a crucial Windows process that can't be closed.
Right?
Apparently not!
In a wild case of neuron misfire, I found myself right-clicking the process and hovering my mouse over "End task".
Well that's weird. I wonder what might happen if I did this?
I clicked … and was presented with a friendly warning: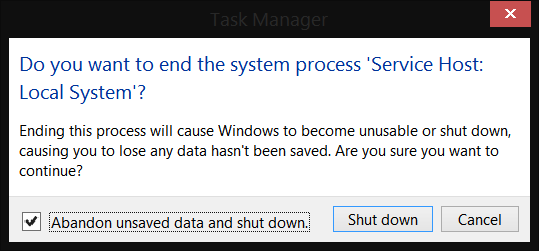 Alright. Let's do it. I'm at the end of my rope, and about to throw my computer out the window, because I don't know what else to do.
I clicked "Shut down" and waited for the world to end.
…
…
…
A moment later, I realized I was still alive … and, to my delight, found that my CPU usage had returned to normal.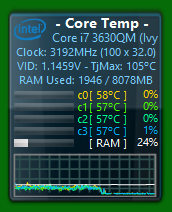 It was crazy. Wild. Amazing. How did I not think of this months ago?
And, while my problem hasn't gone away — I still have no idea which service, exactly, is responsible for this needless waste — I'm happy to not have to reboot any more.
(Well, there was that one time where I got a blue screen about a minute after killing the task … but, as I see it, I would have had to reboot anyway.)
Maybe next time it happens, I'll go through the CRAZY-long list of services Process Explorer tells me about, and kill them one by one … but, most likely not. I've got better things to do!