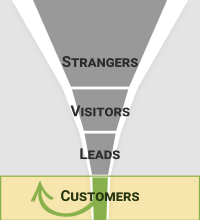 Silly question… how would you like some free advertising? New Product or Service Introduction videos are best used in the final stage of your marketing funnel, and will help you delight your customers, turning them into repeat buyers and active promoters of your business.
Innovating is a powerful way to create customer loyalty. By continually creating new products and services that make their lives better, you'll show your customers that you really do care about them.
Use videos like these to introduce your customers to your new offerings and they'll be excited to come back for more.
---
Examples
Amazon Go
Price for a similar video:
$2182
Bulk Pricing:
2-5 videos: $1679 each
6+ videos: $1377 each
Welcome to the future! This video beautifully captures the experience of what it'll be like to use Amazon's latest invention, and shows that they really do care about making their customers' lives more convenient.
---
Example: Eset Secure Authentication
Price for a similar video:
$3881
Bulk Pricing:
2-5 videos: $3183 each
6+ videos: $2614 each
With simple visuals and quick animations, this video does a lovely job of showing that the company keeps their customer's best interests at heart.
---
Example: Watson Conversation Service
Price for a similar video:
$1185
Bulk Pricing:
2-5 videos: $883 each
6+ videos: $710 each
IBM India produced this simple video for their customers to introduce the new Watson Conversation Service and communicate how easy it has become to build virtual agents.
---
Note: prices listed above are estimates, based on video length and general production level. Your actual price may vary depending on your individual needs.
Get More Promoters and Repeat Buyers
Contact me now to start delighting your customers!
Email: info@jodyhatton.com
Phone: Book a convenient time slot