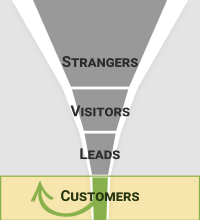 Silly question… how would you like some free advertising? Thank-you videos are best used in the final stage of your marketing funnel, and will help you delight your customers, turning them into repeat buyers and active promoters of your business.
According to research by the Peppers & Rogers Group, the #1 reason customers leave a business is not because of price or quality. It's because they feel that the business no longer values the relationship.
Surprise and delight are the cornerstones of any great marketing strategy.
Reminding your customers that you care about the relationship will help you create fans for life. There are tons of opportunities to do so every year — company anniversaries, Christmas, Thanksgiving, and even Valentine's Day.
---
Examples
Thanksgiving Video
Price for a similar video:
$947
Bulk Pricing:
2-5 videos: $660 each
6+ videos: $525 each
Filmed entirely by the staff using a mobile device, this video does a wonderful job of showing the faces behind the company to create a long-lasting bond with the customer.
Note: I would try to trim this down to the 30-60 second mark to make it more social-media friendly.
---
Example: Holiday Video
Price for one of these: $295
Short and sweet, this video puts the customer in the spotlight and clearly expresses the company's gratitude. The length and text content makes this video very social-media-friendly.
---
Example: Group Video
Price for a similar video: $0
Granted, this is a group of high school kids and not your actual workforce, but this short and fun video does the trick.
If you decide to make your own thank-you video, I'd be happy to clean up the audio (making it "pop" out of the speakers) and brighten the video (making it look as professional as possible) for $149.
Bulk Pricing (Audio/Video Cleanup Only)
2-5 videos: $117 each
6+ videos: $95 each.
---
Note: prices listed above are estimates, based on video length and general production level. Your actual price may vary depending on your individual needs.
Get More Promoters and Repeat Buyers
Contact me now to start delighting your customers!
Email: info@jodyhatton.com
Phone: Book a convenient time slot