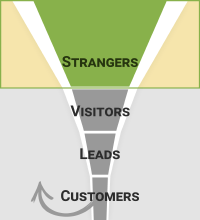 Do you want your business to become known to more people? Video Tips are best used at the top (introductory level) of your marketing funnel, and will help you attract more visitors to your website.
A great way to establish authority in your niche is to have a library of useful tips that make someone's life easier, better, or more fun.
Producing a "Video Tips" series will help your business go from being a total unknown to a credible and trustworthy authority. You'll also have lots of social media content!
---
Examples
Automotive Tip
Price for a similar video:
$991
Bulk Pricing:
2-5 videos: $671 each
6+ videos: $499 each
This video has 2.4 million views on YouTube. It's a bit longer than I would normally recommend putting on social media, but the content is obviously useful to a lot of people!
Note: I generally advise against starting videos with a logo animation when posting on social media.
---
Example: Kitchen Tips
Price for a similar video:
$1198
Bulk Pricing:
2-5 videos: $828 each
6+ videos: $659 each
This is an example of a home-made video that tons of people found useful. It's the longest of the example videos on this page, but keeps viewer interest due to the number of tips it contains. This video could easily be broken into 5 separate videos for a social media channel. 3.8 million views on YouTube.
Note: This video includes a call to action at the end for the viewer to subscribe to the channel and watch other related videos.
---
Example: Cooking Tip
Price for a similar video:
$1242
Bulk Pricing:
2-5 videos: $774 each
6+ videos: $730 each
I'll be honest… this video makes me hungry. I've included it here as an example of a video tip done with high-end production. My price isn't much higher, since I won't be shooting the footage, only doing the editing.
---
Note: prices listed above are estimates, based on video length and general production level. Your actual price may vary depending on your individual needs.
Get Started
Contact me now to start building your company's video library!
Email: info@jodyhatton.com
Phone: Book a convenient time slot