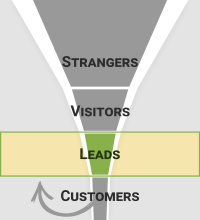 Hooray!
You've brought strangers to your website. You've given them value and captured their contact information in return.
Now your prospects are educated and ready to buy … but they're overloaded with all the options they have to consider.
Video taps into the brain's emotional center in a way that no other medium can do, making it a super-powerful medium at this stage.
Here are 4 types of videos that'll help your prospects visualize themselves using your products or services:
---

Captivate your prospects by telling a story that matches their own.
People fall asleep during TV commercials, but body language changes the instant they hear a story. If you show your prospects that you truly understand what they're going through, they'll be far more likely to listen.
See examples of Explainer Videos
---
Almighty, all-powerful.
90% of customers say their buying decisions are influenced by online reviews, and prospects prefer to watch "real people" share their experiences whenever they consider making a purchase.
See examples of Testimonial Videos
---

As any Olympic athlete will tell you, visualization is a powerful tool.
Helping your prospects imagine themselves using your product or service will engage their purchasing desire without having to "sell" to them. Demo videos work for a variety of offerings, whether yours is digital or physical.
---

People do business with brands they know, like and trust.
Why does your company exist? What helps you get out of bed in the morning? Show your prospects that you have a passion and a vision, and they'll happily follow you toward that bright horizon.
See examples of About Us/Culture Videos
---
Next step: convert your existing customers into active promoters of your business.
Believe it or not, it's what they want.